Samuel Jay will be awarding a signed copy of Deception to a randomly drawn winner via rafflecopter during the tour.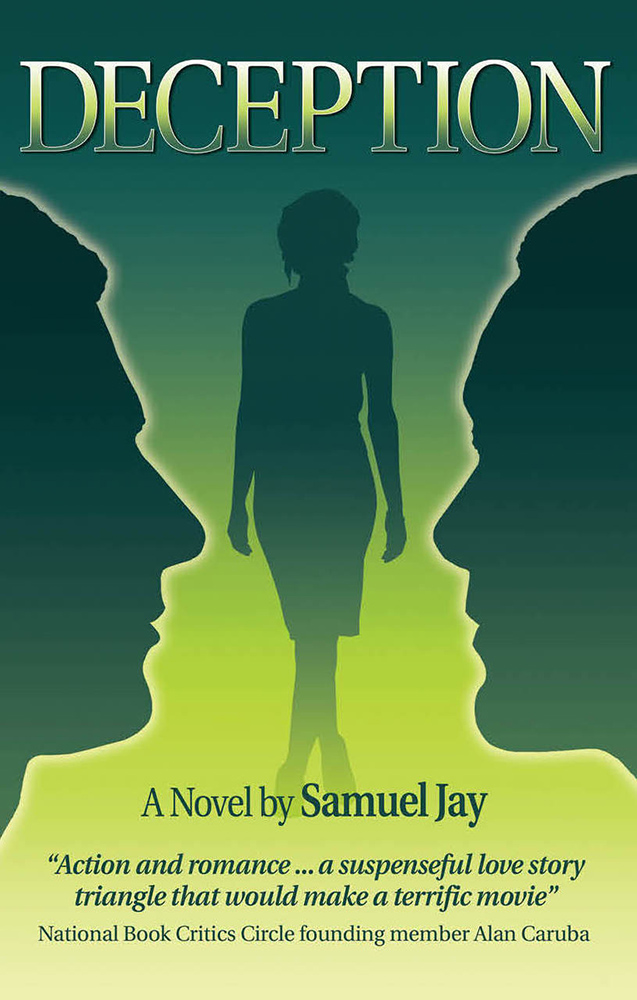 by Samuel Jay
~~~~~~~~~~~~~
GENRE: mystery/romance
~~~~~~~~~~~~~
BLURB:
Lieutenant Jack Morro has just days to go before being sent home from the war in Vietnam. But after inadvertently learning of evidence of a conspiracy involving his captain, he is hit by the captain's 'friendly fire' in the midst of battle. He is left for dead but is only wounded, captured by the Viet Cong, and imprisoned. When Jack is reported killed in action, his fiancé, Diane – a rising New York journalist – plunges into alcoholism. A media giant named Vidal helps her recover, and Diane falls in love with him. But Vidal has secrets – including a connection to Jack's supposed 'death.'
However, Jack is alive, and after a year of imprisonment, he manages to escape. But he comes home to find Diane married to Vidal and his life still in peril from the information he learned in Vietnam.
Vidal, Jack, and Diane find themselves wrapped in a web of romance, deceit, and danger – and none of them will escape unscathed.
~~~~~~~~~~~~~
My review :-
Captivating, ,poignant, entrancing and original. I loved it and would recommend it to everyone, strongly. The book was a great 4.8 star read with realistic, deep characters and a thrilling plot along with an engaging prose.
Excerpt One:
Kneeling in the misty field of elephant grass, Captain Jim Ivy raised his binoculars to peer through the predawn darkness. Spread out ahead of him were thirty men of the second platoon, lying prone, propped up on their elbows, eyes trained on what might be ahead. They wore bulky flak jackets, helmets snapped under their chins, and M16 rifles butted at their shoulders or resting alongside. As a night owl moaned, interrupting the silence, Ivy squinted about a hundred yards out to get a fix on First Lieutenant Jack Morro, whom he had ordered to lead a squad probing for the enemy. Ivy had a motive. The forward position would improve the Viet Cong's chances of killing Morro.
A humid breeze wafted through the tall grass while crickets crackled their resentment to the army of invaders and lizards leaped to escape. A quarter moon, reluctant to leave before dawn, hovered in the sky as though watching the warriors below. As planned, Ivy's second platoon and the third had worked their way along the border on either side of this danger zone. The first, including Morro's squad, was out front, whereas Ivy held the safer rear guard.
Slowly lowering the binoculars so they hung from his neck, the tall, trim Ivy grasped his rifle and then bent over onto his elbows in the crunch of grass, wondering if his plan would work. Morro was a short-timer. Only thirty-five days left to go home a hero and marry his fiancée! So his last few days in combat would probably be Ivy's last chance to stymie the serious threat that Morro posed, especially once he was discharged and free to talk about what he probably knew. And what he probably knew was very threatening.
~~~~~~~~~~~~~
AUTHOR Bio and Links:
The author and his wife, Joan, live in Hunterdon County, NJ. As a public relations professional he and his firm successfully handled major public issue campaigns, including raising $68 million to build Liberty Science Center, now the nation's fourth largest hands-on science museum. He is also president of a family-owned water utility. Deception is his third novel. His website is samueljaynovels.com, and he welcomes speaking invitations and correspondence via samuel@samueljaynovels.com.
https://www.facebook.com/Samuel-Jay-610181309025664/
https://www.amazon.com/Deception-Samuel-Jay/dp/0692797742
The book will be free during the tour.
~~~~~~~~~~~~~
GIVEAWAY INFORMATION and RAFFLECOPTER CODE:
Samuel Jay will be awarding a signed copy of Deception to a randomly drawn winner via rafflecopter during the tour.
a Rafflecopter giveaway