Monday, 29 May 2017
Declan, the sexy, driven powerhouse meets the one woman immune to his charm . . .



FEEL ME
Cecy Robson
RT Book Reviews proclaims that the O'Brien Family series from award-winning author Cecy Robson "has the hottest brothers ever!" And in FEEL ME, Declan, the sexy, driven powerhouse meets the one woman immune to his charm . . .
Declan O'Brien was always driven to take his place among Philly's elite, working hard for everything he's earned, including the title of Assistant District Attorney. He's won seemingly impossible cases, so he's furious when he's assigned to lead the one unit he doesn't want.
Melissa Fenske was born hearing impaired to a neglectful mother, finding solace when she was adopted by a young attorney, now Declan's boss. As the current Director of Victim Services, Melissa's livid when Declan is placed in the main unit she oversees. She can't forget their disastrous first encounter. Or shake how he makes her feel.
Declan considers the assignment another step toward his political aspirations, despite that he can't get Melissa out of his mind. Melissa sees Declan as egotistical and self-serving, kicking herself for how fast she's falling for him. Someone as hot, smooth, and perfect as Declan isn't supposed to want her.
In another situation with any other woman, Declan wouldn't hesitate to take Melissa to bed. But she is the boss's daughter, and for once, Declan finds himself wanting more than just a one night stand.
Neither counted on each other. Both just met their match.
My review :-
Steamy, enthralling and passionate. Perfect for every romance reader in today's world. Suspenseful and well written. A 4 star read.
Cecy Robson is an award-winning author of magical realms and to-die-for Alpha heroes. A double RITA® 2016 finalist for Once Pure and Once Kissed, and published author of more than sixteen titles, you can typically find her on her laptop or stumbling blindly in search of caffeine.
a Rafflecopter giveaway
...
Trouble Cove
by Nancy Lindley-Gauthier
~~~~~~~~~~~~~
GENRE: Historical Romance
~~~~~~~~~~~~~
BLURB:
Far from the all the action of World War I, in a charming tourist's spot on Cape Breton Island, Elizabeth Eames has stumbled into the most wonderful man in the world. She's landed herself in a world where wealth reigns supreme; where any eligible bachelor would meet her mother's highest aspirations. Of course, Elizabeth is dead set on the one she's certain should not be mentioned in letters home.
Actually, there's a lot she's not mentioning. Something is not-quite-right at the grand resort Oceanside, but Elizabeth isn't giving up her job on the basis of a few little suspicions. How likely could some monstrous crime be happening under her nose, anyway?
My review :-
Enthralling, amazing and intriguing with a captivating plot and masterful prose. The characters were strong and well developed with a suspenseful story. I loved it and would recommend it to everyone.
~~~~~~~~~~~~~
EXCERPTS (Exclusive Excerpt):
The hills rolled straight down into the sea. Plumes of fog twisted up from white capped waves and rounded snow-covered hills dropped abruptly into the sea. Even in the fading light, I could see the shore trail weaving its way northward. "Our artist would paint nothing but this one scene, if he but once should see it…"
~~~~~~~~~~~~~
AUTHOR Bio and Links:
"Born in the sight of water," are old lyrics that speak for me: For those of us from coastal towns, the sea forever calls.
"Trouble Cove," features a journey up the eastern coast of Cape Breton Island – Nova Scotia's northern tip – and the sea, in this, is more than the most romantic of backdrops. Wind and wave become part of the tale.
Like so many who have once visited Nova Scotia, the memory of iits rugged beauty fills me with an endless desire to return. Likewise, the island's siren song entwines the plot, throughout; Trouble Cove.
Please find this historical romance/adventure at :
http://catalog.thewildrosepress.com/
http://catalog.thewildrosepress.com/all-titles/4982-trouble-cove.html
Or at Amazon.
Direct links –and some wonderful photos, available at:
www.nlindleygauthier.wordpress.com
~~~~~~~~~~~~~
GIVEAWAY INFORMATION and RAFFLECOPTER CODE
Nancy will be awarding a $10 Amazon or B/N GC to a randomly drawn winner via rafflecopter during the tour.
a Rafflecopter giveaway
Alexandra Blackwood is minding her own troubled life when she unknowingly gets caught up in an extraterrestrial conflict. Ronan, a human with his own alien-entangled past, has been keeping an eye on her and sets out to help her escape looming abduction, and maybe win her heart.
About the Author: Xela Culletto
Xela is a working mother of three, living in the Utah. She teaches secondary English and after talking to students for years about following their dreams and doing whatever it takes to achieve them, she decided to take her own advice and complete her lifelong goal of writing a novel. The idea of life on other planets has always fascinated her, and she wondered what they would think of humanity, which is what spawned the idea for the plot of "Understanding the Stars". When she's not playing with her kids, or sorting through the endless laundry, you'll find her watching The Walking Dead, horseback riding, or working on her next book.
About the Author: Lori Prince
Lori Prince is a classically trained actor with a BFA from Syracuse University. She has performed Off-Broadway as well as at top regional theaters including; The Denver Center, Alliance Theater Company and PlayMakers Repertory Company among others. She has also appeared on Television in Law & Order, Law & Order: SVU and Are We There Yet?. Her voice work includes various characters in the feature film Epic, as well as additional dialogue recorded for over 50 feature films and TV shows.
Sunday, 28 May 2017
Remember Me Forever (Lovely Vicious #3)
by Sara Wolf
Publication Date: May 2, 2017
Publisher: Entangled Teen
"What a rush! Brilliantly crafted, sharply written, and completely unpredictable--the perfect ending to an all-time favorite series! Sara Wolf is a fresh voice in YA, and her characters never fail to make me laugh and think. If you're in the mood for an edgy, witty, one-of-a-kind romance, this is definitely for you!" --Rachel Harris, NYT bestselling author
Isis Blake hasn't fallen in love in three years, forty-three weeks, and two days. Or so she thinks.
The boy she maybe-sort-of-definitely loved and sort-of-maybe-definitely hated has dropped off the face of the planet in the face of tragedy, leaving a Jack Hunter–shaped hole. Determined to be happy, Isis fills it in with lies and puts on a brave smile for her new life at Ohio State University.
But the smile lasts only until he shows up. The menace from her past—her darkest secret, Nameless—is attending OSU right alongside her. And he's whispering that he has something Isis wants—something she needs to see to move forward. To move on.
Isis has always been able to pretend everything is okay. But not anymore.
Isis Blake might be good at putting herself back together.
But Jack Hunter is better
Other books in the series
.
My review of Book 1 :-
Deep, captivating and mesmerising plot and a flowing prose. I loved it and would recommend it to everyone. The book was a one sit read for me. The character driven story line amd the underlying mystery and secrets make this a definite 5 star book
My review of Book 2:-
I loved it and would recommend it to everyone. The characters were amazing, deep and strongly built. I loved the progression of the story and the captivating plot.



My review of Book 3 :-
While it was a good conclusion, the content Could have been better. Almost half of the book is filled with the heroine 's so called "snark". I didn't hate it but definitely had higher expectations given the first books in the series
Sara Wolf is a twenty-something author who adores baking, screaming at her cats, and screaming at herself while she types hilarious things. When she was a kid, she was too busy eating dirt to write her first terrible book. Twenty years later, she picked up a keyboard and started mashing her fists on it and created the monster known as the Lovely Vicious series. She lives in San Diego with two cats, a crippling-yet-refreshing sense of self-doubt, and not enough fruit tarts ever.
Complete the Rafflecopter below for a chance to win!
Friday, 26 May 2017

Samuel Jay will be awarding a signed copy of Deception to a randomly drawn winner via rafflecopter during the tour.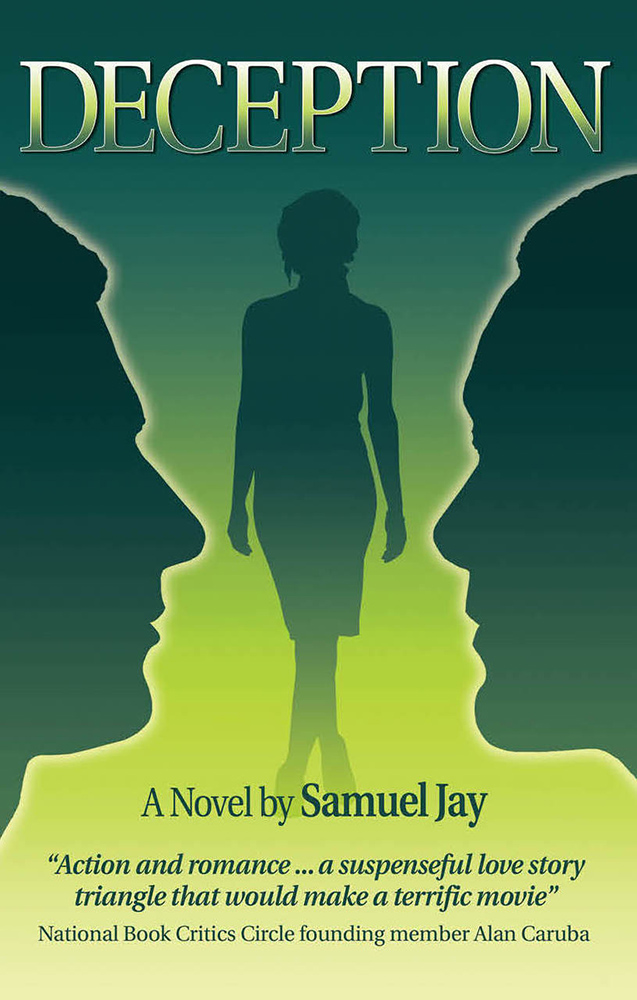 by Samuel Jay
~~~~~~~~~~~~~
GENRE: mystery/romance
~~~~~~~~~~~~~
BLURB:
Lieutenant Jack Morro has just days to go before being sent home from the war in Vietnam. But after inadvertently learning of evidence of a conspiracy involving his captain, he is hit by the captain's 'friendly fire' in the midst of battle. He is left for dead but is only wounded, captured by the Viet Cong, and imprisoned. When Jack is reported killed in action, his fiancé, Diane – a rising New York journalist – plunges into alcoholism. A media giant named Vidal helps her recover, and Diane falls in love with him. But Vidal has secrets – including a connection to Jack's supposed 'death.'
However, Jack is alive, and after a year of imprisonment, he manages to escape. But he comes home to find Diane married to Vidal and his life still in peril from the information he learned in Vietnam.
Vidal, Jack, and Diane find themselves wrapped in a web of romance, deceit, and danger – and none of them will escape unscathed.
~~~~~~~~~~~~~
My review :-
Captivating, ,poignant, entrancing and original. I loved it and would recommend it to everyone, strongly. The book was a great 4.8 star read with realistic, deep characters and a thrilling plot along with an engaging prose.
Excerpt One:
Kneeling in the misty field of elephant grass, Captain Jim Ivy raised his binoculars to peer through the predawn darkness. Spread out ahead of him were thirty men of the second platoon, lying prone, propped up on their elbows, eyes trained on what might be ahead. They wore bulky flak jackets, helmets snapped under their chins, and M16 rifles butted at their shoulders or resting alongside. As a night owl moaned, interrupting the silence, Ivy squinted about a hundred yards out to get a fix on First Lieutenant Jack Morro, whom he had ordered to lead a squad probing for the enemy. Ivy had a motive. The forward position would improve the Viet Cong's chances of killing Morro.
A humid breeze wafted through the tall grass while crickets crackled their resentment to the army of invaders and lizards leaped to escape. A quarter moon, reluctant to leave before dawn, hovered in the sky as though watching the warriors below. As planned, Ivy's second platoon and the third had worked their way along the border on either side of this danger zone. The first, including Morro's squad, was out front, whereas Ivy held the safer rear guard.
Slowly lowering the binoculars so they hung from his neck, the tall, trim Ivy grasped his rifle and then bent over onto his elbows in the crunch of grass, wondering if his plan would work. Morro was a short-timer. Only thirty-five days left to go home a hero and marry his fiancée! So his last few days in combat would probably be Ivy's last chance to stymie the serious threat that Morro posed, especially once he was discharged and free to talk about what he probably knew. And what he probably knew was very threatening.
~~~~~~~~~~~~~
AUTHOR Bio and Links:
The author and his wife, Joan, live in Hunterdon County, NJ. As a public relations professional he and his firm successfully handled major public issue campaigns, including raising $68 million to build Liberty Science Center, now the nation's fourth largest hands-on science museum. He is also president of a family-owned water utility. Deception is his third novel. His website is samueljaynovels.com, and he welcomes speaking invitations and correspondence via samuel@samueljaynovels.com.
https://www.facebook.com/Samuel-Jay-610181309025664/
https://www.amazon.com/Deception-Samuel-Jay/dp/0692797742
The book will be free during the tour.
~~~~~~~~~~~~~
GIVEAWAY INFORMATION and RAFFLECOPTER CODE:
Samuel Jay will be awarding a signed copy of Deception to a randomly drawn winner via rafflecopter during the tour.
a Rafflecopter giveaway